Catholic identity is at the root of who we are, and the call of Jesus to serve defines our daily work.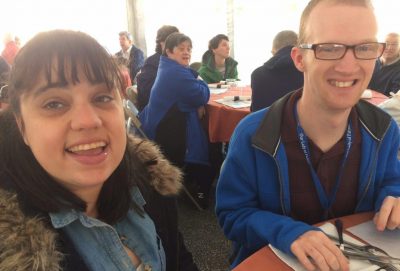 Our "Rooted in Mission" initiative reminds us each day that we are rooted in faith, and that our legacy of faith compels us to serve our brothers and sisters living with disabilities, and to love them as God loves them.
We continue our reflection on Agape: Unconditional love with a reflection on a quote from Cathy Fitzgerald, a program specialist at our Day Programs:
October 24th is always a special day for us, as we celebrate the Feast Day of Saint (Don) Luigi Guanella. "Don Guanella" was born in Italy back in 1842, and was truly a man "ahead of the times." He was someone who saw all people, even and especially those with intellectual disabilities, as children of God who he grew to LOVE unconditionally, without limits or expectations. He brought the LOVE of God into the lives of many people, and because of him many entered into God's House, which we can call LOVE.
God has offered each of us our own holy paths to His House. I remember walking into the Cardinal Krol Center as a young adult and seeing a statue of Don Guanella comforting a young boy. I was deeply moved by that tender image, and knew then that I was meant to be in this place, here in God's house, in God's love, in the Villages of Don Guanella and Divine Providence. Many others have likewise felt this calling.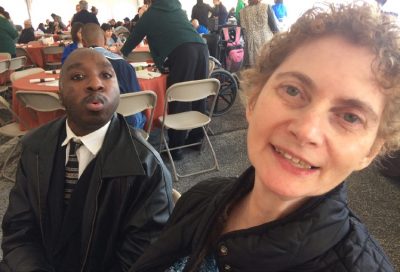 On Guanella's Feast Day recently, "God's good children" (as Guanella was fond of saying) gathered for Mass at Our Lady of Fatima church next door. People from the Day Programs walked or rode over to the church. Some of course needed help. If you think about it, we ALL need help in some way at some time, and as children of God we know what to do—we LOVE. That's because LOVE is the House of God, open to all. God's LOVE overflows on people, who in turn bring about even more LOVE, a LOVE that "recycles" from one person to the next, inside and outside the House of God, as we say to one another: "Peace be with you. Amen."
God's LOVE was visible again after Mass, in one of Jesus' favorite ways to show that LOVE, with a meal. A meal served for all God's children as they gathered under a tent. A meal prepared and served in LOVE, in God's House. Yes, God's House is everywhere because God's LOVE is everywhere, everywhere that the children of God live and work and play. A little slice of "Heaven on Earth."
Catherine T. Fitzgerald
DPV Day Programs
Program Specialist