The Developmental Programs Division of Catholic Social Services continues our year of reflection on the topic of Agape: Unconditional Love. Catholic identity is at the root of who we are, and the call of Jesus to serve defines our daily work. Our "Rooted in Mission" initiative reminds us each day that we are rooted in faith, and that our legacy of faith compels us to serve our brothers and sisters living with disabilities, and to love them as God loves them.
We continue our reflection on Agape: Unconditional love with a reflection written by Patti Menszak, the administrator of Don Guanella Village.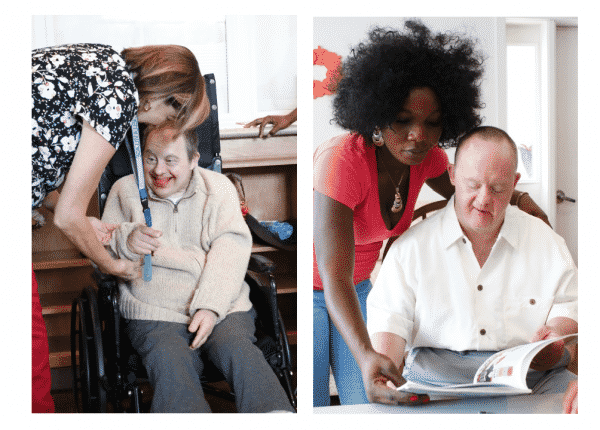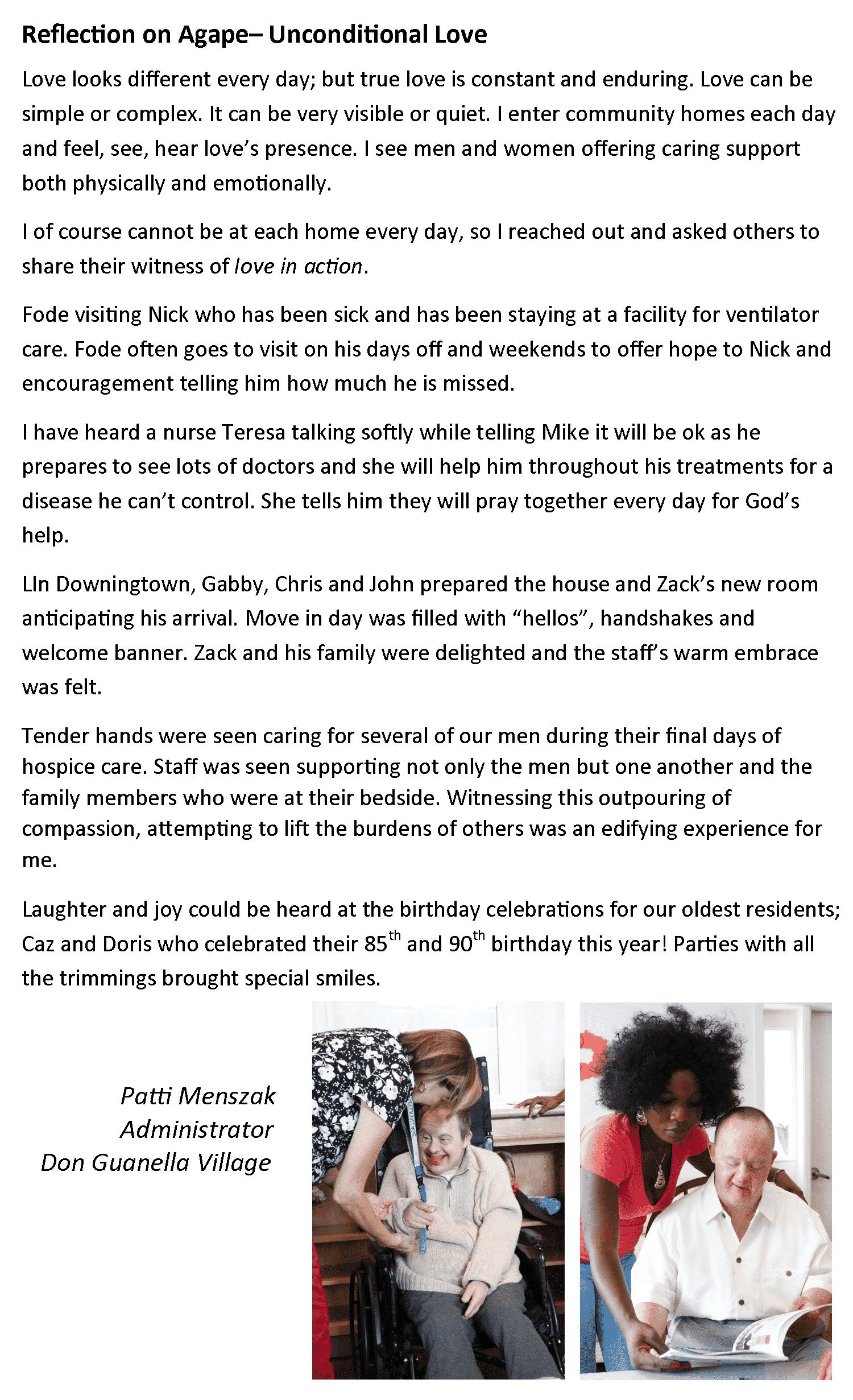 Reflection on Agape– Unconditional Love
Patti Menszak, Administrator
Don Guanella Village
Love looks different every day; but true love is constant and enduring. Love can be simple or complex. It can be very visible or quiet. I enter community homes each day and feel, see, hear love's presence. I see men and women offering caring support both physically and emotionally.
I of course cannot be at each home every day, so I reached out and asked others to share their witness of love in action.
Fode visiting Nick who has been sick and has been staying at a facility for ventilator care. Fode often goes to visit on his days off and weekends to offer hope to Nick and encouragement telling him how much he is missed.
I have heard a nurse Teresa talking softly while telling Mike it will be ok as he prepares to see lots of doctors and she will help him throughout his treatments for a disease he can't control. She tells him they will pray together every day for God's help.
In Downingtown, Gabby, Chris and John prepared the house and Zack's new room anticipating his arrival. Move in day was filled with "hellos", handshakes and welcome banner. Zack and his family were delighted and the staff's warm embrace was felt.
Tender hands were seen caring for several of our men during their final days of hospice care. Staff was seen supporting not only the men but one another and the family members who were at their bedside. Witnessing this outpouring of compassion, attempting to lift the burdens of others was an edifying experience for me.
Laughter and joy could be heard at the birthday celebrations for our oldest residents; Caz and Doris who celebrated their 85th and 90th birthday this year! Parties with all the trimmings brought special smiles.