DIVINE PROVIDENCE VILLAGE RECEIVES $725,000 BEQUEST
Dr. John E. Hughes was a "great buddy" of longtime Divine Providence Village resident Lizzie Dukes.
When Dr. Hughes passed away on July 30 at the age of 86, his will revealed the depth of their friendship,
and showed his appreciation for the care Lizzie has received at Divine Providence Village.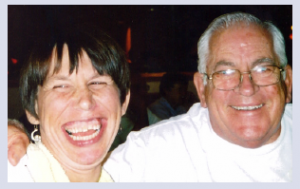 In August, Jean Calvarese-Donovan, Administrator of Divine Providence Village, received a surprising call from Pat Crawford, a good friend of Ellen and Lizzie Dukes. Pat told Jean that she was the executrix of an estate, and DPV would be receiving a legacy gift from Lizzie's dear friend, Dr. John E. Hughes. They also said the bequest would be somewhere in the range of $500,000 to $750,000!
Dr. Hughes had an amazing life. The first child to be adopted by a single parent in the City of Philadelphia, his adoptive mother, Elizabeth Hughes, was an OB/GYN physician and his aunt, Alice Hughes, was a Philadelphia schoolteacher. Together, they raised John from the time he was two years-old, and provided him with a Catholic education from elementary school through college. He later went on to receive a doctorate in education from Temple University, and then spent a long and successful career as a teacher and elementary school principal.
Dr. Hughes always felt blessed to have been adopted into a strong, Catholic family. He also felt blessed to know Lizzie, and was touched by her infectious, joyful spirit. They came to know one another when Dr. Hughes was the principal of the school where Pat and Ellen worked. A bus would drop Lizzie off at the school at the end of the day, and their mutual friendship blossomed. These four close friends and Dr. Hughes were on the altar at the Cathedral of Saint Peter and Paul when Lizzie was confirmed in 2007. Raised by kind and loving women, Dr. Hughes wanted the ladies who reside at Divine Providence Village to benefit from his generosity.
The Communities of Don Guanella and Divine Providence are humbled and grateful to Dr. Hughes for his incredible gift. He is now enrolled in the Saint Luigi Guanella Legacy Society along with others who have made a planned gift to our Communities. Legacy Society members are our special patrons, who as benefactors are remembered in a special way in the prayers and Masses offered in the chapel at Divine Providence.