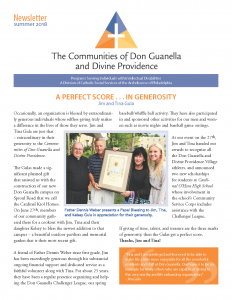 We are pleased to offer to you, for the first time, our newsletter published electronically here at our website. This enriched version has links embedded in the articles to other related areas of interest at our website.
If you prefer to download the pdf of our Summer 2018 newsletter, you can do that here.
In this edition of our newsletter we focus on our Day Programs at Our Lady of Fatima Parish in Secane and shine a spotlight on our exceptional staff and their work to provide engaging support for our individuals by involving them in the community and providing employment opportunities.
We hope you enjoy our Newsletter, and please feel free to share the links to articles you enjoy with your friends and family.